Harvest Calendar
When We Harvest
Every growing season varies slightly – please call (518) 827-5454 if you have specific questions about availability. 
January-April
Winter Storage Vegetables and High Tunnel Greens: kale, Swiss chard, spinach, arugula, lettuce, and celeriac
May-June
Flowering Green House Crops, Bedding Plants, unique Hanging Baskets, Perennial Plants
Herbs and garden vegetable plants-the same varieties we grow on our farm.
Lettuce, Radishes and Greens-fresh from the field – Hurrah!
Late June-July
Peas-for as long as they last.
High Tunnel Tomatoes
Beets, Beans, Summer Squash, Cauliflower and Broccoli-picked fresh throughout the season.
July
Sweet Corn-18 varieties and over 40 plantings to provide the best flavor with no insecticides.
New Red or White Potatoes-the most delicate, flavorful potatoes of the year.
Cabbage-sweet and crisp.
Cucumbers-slicers and picklers.
Mid July
Tomatoes-vine ripened and hand sorted available by the quart or by the bushel.
Peppers-bells of every color, sweet frying, pimento and hot!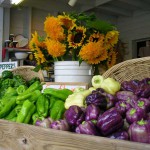 Onions-sweet Vidalia types, Red and Spanish.
Late July
Melons-vine ripened and hand selected with flavor that can't be beat.
Fresh Herbs and Garlic-add vibrancy to summer's flavors.
Flowers-everlastings and edibles from our cutting garden.
August
Eggplant – 8 varieties for every cooking style,
Pick Your Own Tomatoes, Peppers and Eggplant
September
Winter Squash – 12 varieties to jazz up autumn meals,
Fall Ornamentals – Indian corn, gourds, pumpkins, corn stalks, and straw bales,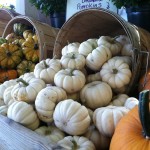 beautiful Hardy Mums
Winter Potatoes – 5 varieties of our famous potatoes.
October-December
Pick the Perfect Pumpkin
Gather in a harvest of storing vegetables to last you through the holidays and winter season
High Tunnel Greens and celeriac